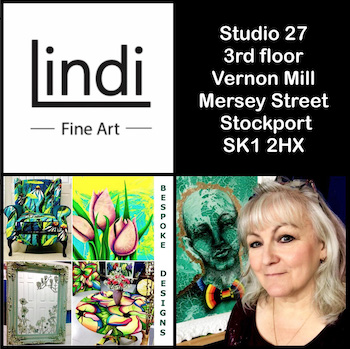 ---
I've been self-employed as a professional artist for many years. (Lindi – Fine Art) Principally self-taught; I describe myself as a multi-disciplinary artist as my painting styles are commissioned for Private, Commercial Interiors and Public Art, working on my bespoke designs, from paintings, furniture and textile items. My passions are for nature, portraiture, figurative, vibrant colours, textures, drawing, and design; whatever I'm working on, it comes from my soul. I am a multi-award-winning artist; my paintings are widely published; I've had solo shows; and many group exhibitions in the UK and abroad. I am proud to have an eminent clientele following.

With my background in early years to adult Education, I am experienced with working with all ages and abilities. I have DBS certification.
o 1:1 Workshop tuition in my studio is by arrangement. Enquiries welcome.
o I also do workshops for Art Groups.